Byron Bay's best adventure tour company
To provide our guests an unforgettable wildlife adventure through education and awareness on our delicate ecosystem and incredible marine life, while supporting marine conservation and research.
We believe that providing an opportunity to encounter our precious wildlife in their natural environment and learn about their behaviours and biology, will bring you a new understanding and respect for these animals and an interest to further help their conservation.
"Apollo 2" is an 8.5 metre rigid inflatable boat, purpose-built to offer a truly intimate wildlife experience, with individual padded seating for up to 12 passengers and 360 degrees unobstructed viewing.
Being at water level, immerse yourself in the ocean world and watch whales and dolphins swim under the boat just arms length away.
Fitted with Yamaha outboards, providing cleaner emissions and class leading performance, the boat's speed allows to cover a large search area and get to the whales very quickly.
Its size will allow us to approach whales and dolphins without disturbing their activity, and will not intimidate the wildlife, providing the closest uninhibited encounter in their natural habitat.
Perfectly suited for the open ocean, its design and architecture provides a smooth ride and is the same style as marine rescue vessels for its superior safety, comfort and efficiency.
The ride itself is an exhilarating adventure as you cruise around the Cape Byron Marine Park or ride to Julian Rocks "Nguthungulli" Nature Reserve.
We have of the most passionate and experienced crew in Byron Bay, committed to share the wonders of the environment and protect the incredible wildlife we are privileged to witness everyday.
Growing up in Byron Bay and surrounds, Glenn considers this area his home. He is a true waterman and spends most of his time in or on the ocean, from surfing to foiling, kite surfing, freediving.
With thousands of bar crossings and many more hours at sea, he's one of the most experienced skipper in the Bay
Glenn also has over 5 years of experience as Marine Rescue skipper and received a commissioner citation in 2019 for his efforts rescue saving lives at sea.
His passion for nature and marine life led him to volunteer for Dolphin Research Australia, where he received an ecotourism certification for Whale and Dolphin Watching.
Also know as the "Whale Whisperer, his understanding and knowledge of the ocean and its inhabitants make for the most incredible encounters.
Darren has called the Brunswick and Byron area home for more than 40 years and is passionate about spending his time enjoying all that the beautiful Byron shire has to offer. He has 15 years on the water commercially including extensive experience in bar crossings. 
Darren is also well known throughout the area for being an avid ocean goer and his wide knowledge of local marine life and habitats.
Snorkel guide / Freedive instructor
Taylor McKeown is a former Australian representative in swimming who retired retired after her 3rd Commonwealth Games in 2022.
An avid snorkeller and freediver, Taylor has completed all PADI courses, travelled the world with freediving even diving in the worlds deepest pools in France and Dubai. Her freediving courses and retreats can be booked through 'Diving in Paradise'. Taylor is also an Animal Ecologist, bringing a wealth of knowledge in aquatic wildlife, perfect for those wishing to learn about the animals they will be freediving or snorkeling with.
Having grown up in the area as a passionate surfer and ocean lover, Seamus is motivated toward conservation and sharing his love of all things ocean with others.
This is only further emphasised coming from a family of passionate ocean conservationists and researchers in n the field of marine biology.
For Seamus, being on and in the ocean is not only a passion but an essential way of life.
GUIDE / MARINE BIOLOGIST​
Sarah is an ocean lover and whale-frother, and is incredibly passionate about science, research, and conservation. In both her free time, snorkelling and diving all along the Queensland coast, to her professional career, her life revolves around the sea and particularly humpback whales. Through her current research as a PhD Candidate at Griffith Uni, studying the feeding events of humpback whales, to being President and assisting the running of volunteer research organisation Humpbacks & High-Rises, she loves to investigate and understand the behaviour and ecology of these ocean giants and teach and inspire others to care about them and our oceans.
Snorkel Guide / Marine Conservationist
Victoria is a qualified freediver, passionate marine conservationist and all round water woman. Her love for the ocean has inspired her jewellery and adventure company 'Mermaid Collective'. Victoria creates oceanic inspired jewelry that a portion of the proceeds replant coral reef. Victoria also teaches yoga for Freediving and hosts workshops for underwater animal interaction and wildlife ecology. Victorias underwater adventures have taken her around the world from guiding experiences with Great White Sharks in South Africa to Weedy Sea Dragons in Southern Australia and Manta Rays in Indonesia. You can find Victoria's creations and adventures at www.themermaidcollective.com.  
GUIDE / MARINE BIOLOGIST​
Liz is a marine biologist and passionate conservationist. Liz has over 20 years experience in researching whales and dolphins along the Australian coastline. She has a doctorate in marine mammal science and she enjoys engaging and educating the community about these animals and their world. Liz is also the Founding Director and CEO of local marine conservation charity, Dolphin Research Australia.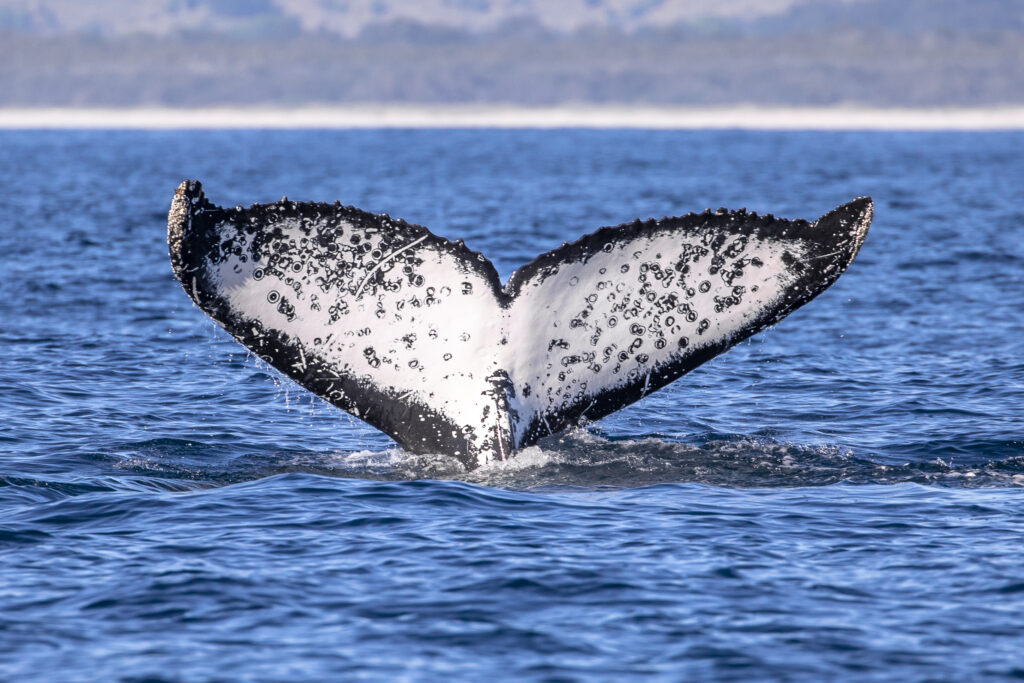 Research and conservation
Being out on the water everyday, we have a unique position to be the "eyes on the ocean" of the researchers.
Our onboard marine naturalists collect sightings and behavioural data on marine species on every tour, from humpback whales and dolphins to leopard sharks and manta rays.
For example, humpback whales have unique patterns on the underside of their fluke, just like our "fingerprint". Using photo-identification, we can identify individuals and learn more about population dynamics, migration patterns and much more.
By choosing Wild Byron, you are contributing directly to marine research by supporting our efforts to collect critical data, in order to create a better understanding and ultimately better protect these species.
Wild Byron is committed to safe and respectful wildlife viewing by following the most ethical and responsible whale watching and snorkelling practices.


The Australian National Guidelines for Whale and Dolphin Watching 2017 describe how people can observe and interact with whales and dolphins in a way that ensures animals are not harmed or disturbed.
By complying with guidelines and regulations, we ensure minimal impact and disturbance on whales and dolphins while offering the best natural encounter.


Our commitment to Responsible Snorkelling at Julian Rocks Nature Reserve include a thorough environmental briefing to explain you how to explore the underwater world with minimum impacts, while providing you with the best quality snorkelling gear and aids to floatation to be comfortable in the water as well as reef safe sunscreen.


During our tours, we also remove marine debris and floating garbage to help create a healthier marine environment.